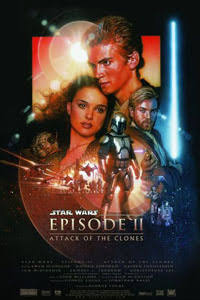 Star Wars Episode II: Attack of the Clones is a 2002 American epic space opera film directed by George Lucas and written by Lucas and Jonathan Hales. It is the fifth film to be released in the Star Wars series and stars Ewan McGregor, Hayden Christensen, Natalie Portman, Christopher Lee, Ian McDiarmid, and Samuel L. Jackson. The film is set 10 years after the events in Star Wars Episode I: The Phantom Menace, when the galaxy is on the brink of the Separatist Crisis. Under the leadership of a Count Dooku, thousands of planetary systems threaten to secede from the Galactic Republic. When an assassination attempt is made on Senator Padmé Amidala, the former Queen of Naboo, Jedi apprentice Anakin Skywalker is assigned to protect her, while his mentor Obi-Wan Kenobi is assigned to investigate the assassination attempt. Soon, Anakin, Padmé, and Obi-Wan are drawn into the heart of the Separatist territories and the beginning of a new threat to the galaxy, the Clone Wars.
Development of Attack of the Clones began in March 2000, after the release of The Phantom Menace. By June 2000, Lucas and Hales completed a draft of the script and principal photography took place from June to September 2000. It was primarily shot at Fox Studios Australia in Sydney, Australia, with additional footage filmed at Tunisia, Spain and Italy. It was one of the first motion pictures to be shot completely on a high definition digital 24-frame system. The film was released on May 16, 2002, Attack of the Clones. It garnered mixed reviews from critics and was a financial success; however, it also became the first Star Wars film to be internationally out-grossed in its year of release. The film was released on DVD and VHS on November 12, 2002 and was later released on Blu-ray on September 16, 2011.
Appearances
Edit
By type
| | | | | |
| --- | --- | --- | --- | --- |
| Characters | Creatures | Droid models | Events | Locations |
| Organizations and titles | Sentient species | Vehicles and vessels | Weapons and technology | Miscellanea |
Characters
Dramatis personae
Other characters
Community content is available under
CC-BY-SA
unless otherwise noted.